Posted on July 20, 2007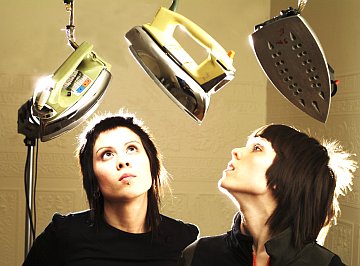 This week,
Tegan & Sara
launched their fifth record "The Con". Tegan & Sara is a band from Calgary who got their first big break by winning a local music competition (Garage Warz). The identical twins' trademark is their equal share of lead singing and playing of instruments.
I first came across their music a couple years ago on the soundtrack of Grey's Anatomy. They sure seemed to love this band as I'm sure at least three of their songs are on the soundtrack. I wasn't sure at first. I wasn't hooked right away. But then a couple weeks ago, I was listening to podcast #111 and Grant Lawrence was interviewing them. They were so cool, smart and interesting. And then they played a song off their new album, and I was hooked! I've been listening to it back to back for a couple days now. I love it. So good. And more importantly, they're Canadian!